Customer Benefits
A differential pressure switch ensures a system shut down in the case that the circuit runs dry. Therefore the customers investment is protected.
 Because of its compact design the Hyperchill Plus provides a space saving and easy to install solution. Condenser filters reduce dirt, thereby preventing system downtime.
Reliable operation even in extreme ambient conditions. The standard units allow maximum ambient temperatures up to 40 °C. The tropicalized units up to 45°C.
 The non-ferrous hydraulic circuit maintains the quality of the coolant ensuring stable working conditions, improving productivity and decreasing maintenance costs.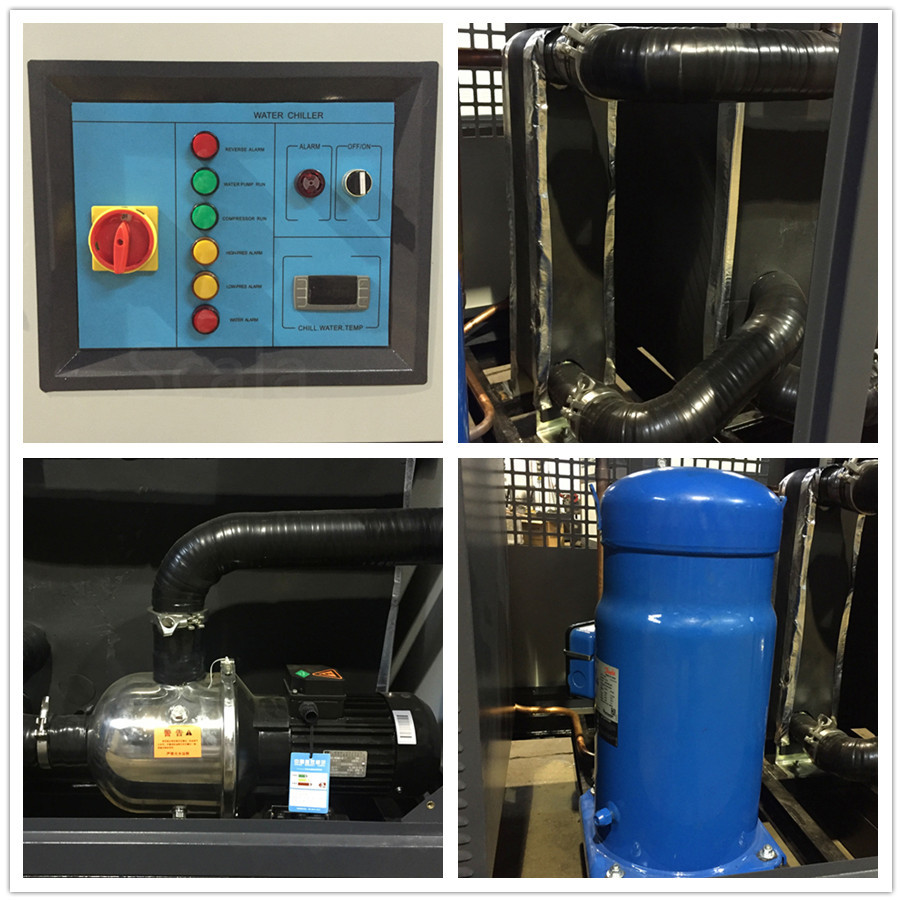 Product Features
Non ferrous hydraulic circuit:stainless steel water tank , stainless steel plate evaporator, non-ferrous pump with bypass prevent water from becoming corrosive.
Pump and tank installed inside the chiller provides a compact and easy to install solution; without pump and/ or without tank solution available.
As standard installed differential pressure switch that makes sure  that the systems shuts down in the case that the circuit runs dry. Therefore the investment is protected.
designed with fan step control in order to work in low ambient temperatures down to -10 °C.
Water  and refrigerant manometers permit full control of the working conditions.
High reliability & Low energy consumption
Large built-in water tank that provides a large thermal mass / storage  capacity thus reducing the number of  refrigerant compressor stop/starts and short cycling thereby increasing the compressor and chiller lifetime and reducing the energy consumption.
Maximum  ambient  temperature up to 40 °C on standard units, Tropicalization up to 45 °C and Low ambient options ensure reliable operation in extreme ambient conditions.
Oversized condensers and evapora- tors guarantee high performing heat exchange increasing COP (Coefficient Of Performance).
Use of compliant scroll compressors  designed specifically for high efficiency and long life in industrial applications.

Product SpecificationCHA Series Industrial Water Chiller
Model CHA-
2
3
5
8
10
12
15
20
25
30
40
50
60
Cooling capacity1
kW
8,2
11,7
19,4
31,5
41,1
45,7
61,6
82,2
106,8
124,6
165,7
213,7
249,3
Cooling capacity2
kW
6
8,5
14,2
23
30
33,5
45
60
78
91
121
157
182
Power supply
V/ph/Hz
380/3/50
Protection index
 
54
Refrigerant
 
R407c
Compressor
Type
 
scroll
Compressors / circuit
 
1
2
4
 Max. compressor power  
kW
1,8
2,57
4,13
6,96
8,4
8,93
13,76
16,9
21,6
27,52
35,72
43,2
55,04
 Axial fans
 Quantity
 n.°
1
1
1
2
2
2
2
3
3
4
4
6
6
Max.  fan power 
kW
0,19
0,3
0,38
0,48
1,04
1,04
1,1
1,65
1,65
2,1
2,1
3,12
3,12
Air flow
m3/h
 
 
 
 
 
 
 
 
 
 
 
 
 
Water cooled version
Condenser water flow
m3/h
 
 
 
 
 
 
 
 
 
 
 
 
 
Condenser connections
in
 
 
 
 
 
 
 
 
 
 
 
 
 
Pump P30
Max.abs.power
kW
0,55
0,55
0,75
1,1
1,5
1,5
1,8
2,4
3
4
4
5,5
5,5
Water flow
m3/h
2
3
4
6
8
10
12
14
16
20
28
35
42
Head pressure
mH2O
28
28
30
28
34
33
30
35
32
33
29
36
32
Dimension and weight
Width
mm
760
650
700
860
920
920
920
1120
1120
1240
1200
1200
1240
Depth
mm
950
1150
1300
1400
1450
1650
1950
2300
2600
2800
3200
3250
3450
Height
mm
1060
1100
1100
1200
1740
1800
1880
1850
1900
2000
2000
2000
2100
Connections in/out
in
1
1
1
1 1/2
1 1/2
2
2
2
2 1/2
2 1/2
DN65
DN65
DN80
Tank capacity
l
46
74
105
137
175
200
300
420
460
500
External tank
Weight (axial)
kg
120
150
180
300
400
600
700
1000
1200
1400
1700
1900
2100
Weight (water cooled)
kg
 
 
 
 
 
 
 
 
 
 
 
 
 
Noise level
 
 
 
 
 
 
 
 
 
 
 
 
 
 
Sound pressure (axial)3
dB(A)
60
60
60
65
65
65
65
68
68
70
70
70
70
1) at water in/out temperature 20/15 °C, glycol 0 %, either 25 °C ambient temperature (air-cooled models) or 25 °C condenser water inlet temperature with 35 °C condensing temperature (water-cooled models)
2) at water in/out temperature 12/7 °C, glycol 0 %, 32 °C ambient temperature (air-cooled models)
3) referred to axial fan version in free field conditions at a distance of 1 m from until, measured on condenser side, 1 m from ground